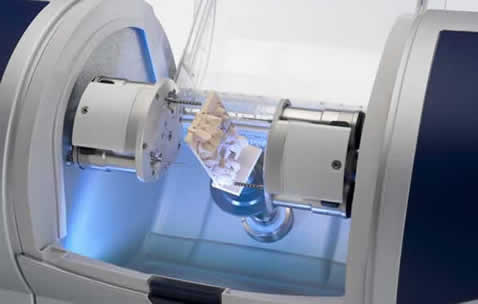 Advanced Dental Lab is in business for three reasons. Personal Service, Excellent Craftmanship and Superb Products.
We use only the highest quality products. When you send a crown or a bridge case, we'll study your order and should we think something else on the market may work better, then we'll discuss it with you.
E-Max
IPS e.Max® delivers the ultimate in metal free esthetics and strength utilizing both Pressable and CAD/CAM technologies.
Designed with versatility and simplicity in mind, IPS e-max lets you select from multiple framework materials giving you the versatility you want while always vaneering with the same ceramic giving you the simplicity you need, Which means you can be confident when restoring, even the most complex cases.
IPS e.max provides outstanding esthetics, high strength, and predictable shade matching even with difficult combination cases.
Now, the laboratory can produce the highest quality esthetic restorations using the most progressive fabrication methods with the industry's most innovative materials.
Cerec inLab
Cerec inLab is an opportunity to expand your business and offer patients the benefits of all-ceramic CAD/CAM restorations, while maintaining the same easy prep and placement methods you currently use for PFM's.
Why Dentists Prefer CEREC inLab:
- Easy Preparation
- Easy Placement
- Clinically proven for over a decade
- Greater esthetic choices
- Three all-ceramic materials to satisfy any strength consideration
Cerec InLab 3D Adds A New Restorative Dimension
Sirona's CAD/CAM system is adding another dimension to restorative control with its new operating system, CEREC InLab 3D. The new and intuitive 3D software allows users to view, manipulate, change and verify all aspects of the restoration design before milling. It provides a 360-degree perspective, which allows the technician to design restorations with such accuracy that it substantially reduces the need for time consuming and difficult adjustments, according to the company. The software allows technicians to design custom-milled inlays, onlays and restorations before milling. In addition, the system allows technicians to fabricate multi-unit bridge frameworks and adds pure Zirconium oxide (VITA YZ) and feldspar ceramic (VITA MARK II) blocks to its options of highly esthetic and clinically reliable restorative materials.