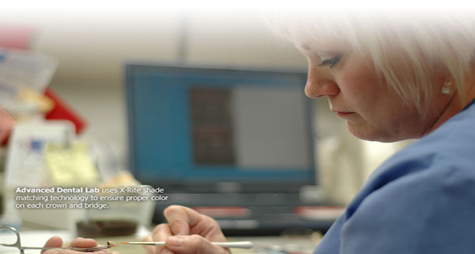 FREE SHIPPING *click More at bottom of page*

Advanced Dental Lab provides the finest services possible.   Bert and Scott constantly upgrade their knowledge through continuing education courses.  Thus our staff is always up to date with new techniques, technology and materials.
We stress personal service.  Our reputation for high expertise means you'll receive exceptionally good restorations.  Fewer chair side adjustments reduce your valuable time and increase profits.  You'll also achieve better patient comfort and more referrals to your practice.
X-Rite Digital Shading
The X-Rite Shade Vision System is an affordable, accurate shade matching system that eliminates the subjectivity of the human eye, improves the communication between the dentist and the laboratory and gives the laboratory the ability to control the color accuracy of the restoration prior to placement in the patient's mouth.
A New Era in Dentistry
- Easy to use, precise measurement tool that delivers consistent results
- Allows labs to organize and utilize consistent color and shade interpretations from multiple sources.
- Eliminates guesswork and increases value.
- Establishes a whole new standard for quality control and a whole new level of communication · - Surprisingly affordable
Imaging Technology
The Shade Vision System instrument is a digital imaging colorimeter that emits light and measures the reflection. Readings take less than 1 second and produce no sensation to the patient. The colorimeter is a handheld device that uses precision measurement technologies that respond to light in a similar manner to that of the human eye. The shade-matching instrument is able to accurately identify the shade of the tooth by measuring it in terms of hue, value and chroma. We strive for the most precise color communication with the dentist and our lab, resulting in the finest quality prosthetics. Incorporating a policy on continuing education along with the further pursuit of technical innovation, places us on the cutting edge of dental technology today.