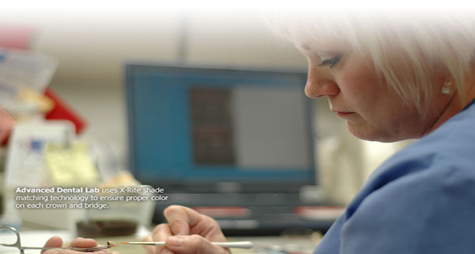 Free Shipping
From your door to ours… Advanced dental lab provides prompt pick-up and delivery for dentists in the local area and free shipping to our out of town accounts… with special arrangements for rush situations.
Turnaround Schedule

1 Unit - 5-6 Days
2-6 Units - 6-8 Days
7-14 Units - 10 Days
Full Mouth Rehabilitation - 14 Days

(Production days are exclusive of mailing time)
Competitive Fees
At Advanced Dental Lab, we make our service economical for our customers by supplying value rather than by cutting corners. Our ultimate goal is an appliance that is easy at the chair, does what you expect and please you and your patient. Constructing a dental prosthesis is an art that requires patience, meticulousness and experience. Our skilled craftsmen are undisputed masters in this field, creating your crown and bridge from start to finish. We are dedicated to providing our dental clients with a consistent, precise, and cost effective restoration on a timely basis.